We supply neodymium magnets for a broad range of applications. One of the more interesting uses was by Dave Durand  of ETATech3D in Brantford, Ontario (1 hour west of Toronto). He used some of our disc magnets in a product he designed and 3D printed for one of his customers.  We greatly appreciate his permitting us use of his images and description of the process verbatim as described below.
Project Request
Create a custom business card holder that resembles one of ETATech3D's customer's moulded pulp products that can be transported in a sales person's carry-on baggage without being damaged and set up quickly at an event.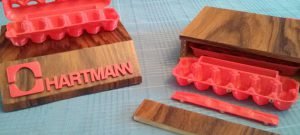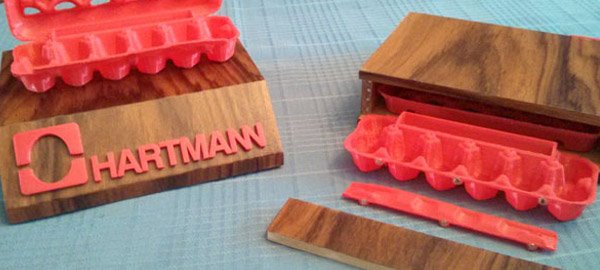 Product Delivered
50% scale 3D printed "enhanced replica" of an actual production egg carton that breaks down into three components which are transported inside the wood display base and "click" together firmly with rare earth magnets.
Process
• One of a customer's production egg cartons was precision 3D scanned to capture the inner/outer surface geometry of the product
• The scan data was converted to a mesh model, scaled to 50%, parted into three separate components, aligned and exported for CAD enhancement
• The three components were imported into CAD software where a slot/box for the business cards was integrated into the egg pocket component, magnet pockets added to each component and removable pillars added support overhangs and bridges during 3D printing
• Each card holder set was 3D printed in four separate components (egg pockets, lid, closure flap and company logo) and took about 14 hours of total print time per set.
• Post processing was required to remove the support pillars and glue the magnets into their pockets
• Three sets of neodymium magnets hold the lid and closure flap components to the egg pocket component and secure the entire assembly on top of the wooden display base (axially magnetized so that each carton would only assemble one way and components were interchangeable from one assembly/display base to another)
• Another set of neodymium magnets holds the back-plate on the wood display base