Super strong, neodymium rare earth magnets are one of the hidden wonders of today's technological society. They can be found in earbuds, vending machines, automobiles and security systems to name just a few applications.
Their strength and compactness make them particularly useful in arts and crafts. Read more about one of our customers who has put together some on-line instructional tutorials for making stunning magnetic jewelry.

Magnetic Jewelry
Helen Breil is a local designer of jewelry who offers online courses for making magnetic pendants and brooches. She uses neodymium magnets in the clasps. In her own words:
"In my tutorial, I specifically mention the 2 sizes of magnets that Trish at Poly Clay Play ordered.  I encourage people to try other shapes and sizes but I do not specify any ones in particular.  I have indeed bought many sizes myself including squares, rings, and discs but have found the 2 block magnets that Trish ordered work for the pendants I feature in the tutorial."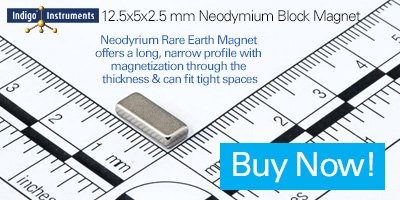 Helen experimented with 18 different Nd magnets to come up with the designs in her tutorials. The two she is referring to are the 12.5x5x2.5mm block magnets & the 25×2.5×2.5mm block magnets.
Indigo neodymium rare earth magnets are N42 grade and made with the accuracy and precision normally associated with demanding applications. This ensures consistency so that every brooch or pendant you make will attach firmly.
Helen's Online Tutorials
The instructional material is self-explanatory so we'll let them speak for themselves.
1) Magnetic Promo
2) Magnetic Pendants
We also recommend a visit to Helen's Instagram page where you can see just a few of her design ideas.

About Helen Breil
Helen Breil is an artist who works with polymer clay and other materials. She creates textures & silkscreens, as well as tutorials featuring polymer jewelry projects and self-published eBooks "Shapes" and Fan Fold Designs. Helen is located in Guelph, Ontario which is west of Toronto and 20 minutes east of Waterloo where Indigo Instruments is located.
Polymer Clay Tools
We also offer a variety of stainless steel dental tools that are useful for polymer clay work. This includes picks, scalers, excavators, scrapers, and a spatula.