Folding hand lenses make great mushroom magnifiers.  Wild mushrooms make tasty side dishes, garnishes & hamburger toppings. Pick the wrong ones though & you will die a slow, painful death. The difference between a safe mushroom and a dangerous one can be subtle so a good magnifier is essential to proper identification.

Mushroom Magnifiers in the Field
Here is what Iza A.,  the program director of the Mycological Society of Toronto had to say:
I wasn't able to take pictures of the loupe "in action" at our Huntsville foray but had a chance to get some shots from a more recent outing.  I've included a couple of pictures, including one of an identification table with (mostly) Polypores all around.
I have found the loupe quite useful for viewing some of the tiny features and details on the mushrooms that we have been finding this fall.  I was quite pleased with the sturdiness of the loupe and the price per is quite good.
Thanks again for your help in getting these sent out to us so quickly and your advice on which item to purchase.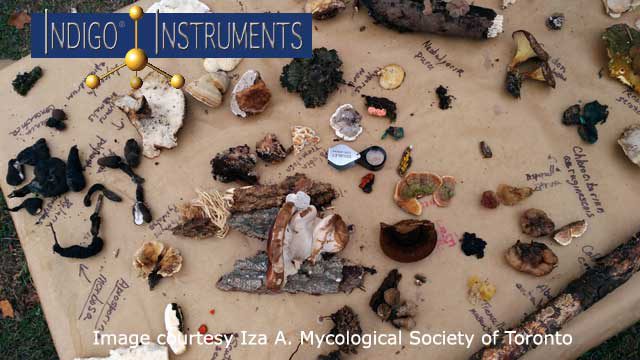 Identification table with a variety of mushrooms, primarily Polypores. Photo taken by Christian J. of Mycological Society of Toronto.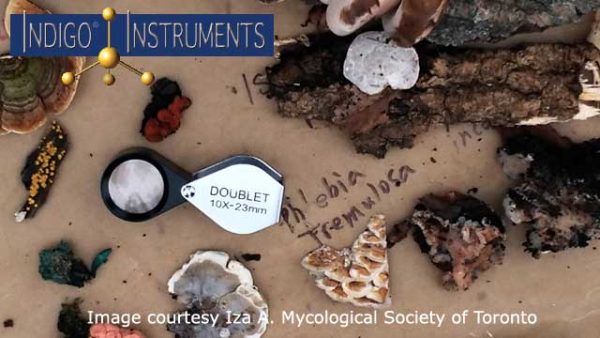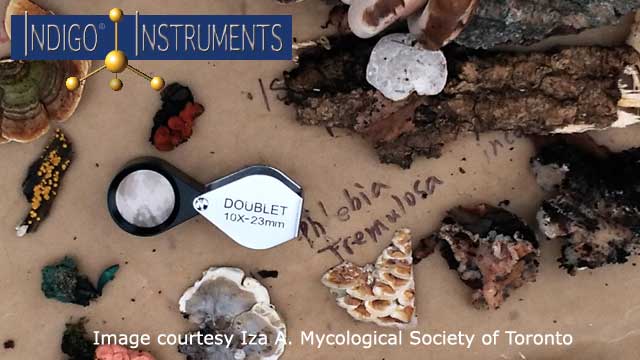 A close up of the  doublet 10X 23mm mushroom identification magnifier.
Other Hand Lenses
Beginners might find the 10X 23mm metal framed magnifier hard to use. An inexpensive alternative is our 5X/5X=10X plastic framed magnifier. This magnifier comes with 2 fold out glass lenses. If used separately, each magnifies 5X. If doubled up, they magnify 10X like the metal one shown in the picture.
Grow Your Own Mushrooms Supplies
Of course, not every wants to trek through the forest for their mushroom fix. Grocery stores are now stocking more varieties than ever. We have had some of the local growers contact about supplies they can use in this process. These include:  100 ppm hydrogen peroxide test strips, Erlenmeyer flasks & stoppers,  scalpel handles/blades,  and petri dishes.
Related Articles
Phone Camera Loupe "Dissecting Microscope".  Another way to use the geology lens mentioned above.
Fantastic Macro Photos Reveal the Microscopic World of Mushrooms and Slime Molds. Mushrooms magnified even more.