Personal Branding?
Location, location, location is a catchphrase we've all heard & immediately associate with real estate sales. For real estate agents & brokers themselves, personal branding is especially important. You can see this in lawn signs, newspaper ads & bus stop benches, many of which feature a photo of the agent her/himself.  Standing out from the crowd is vital-find out why a personalized credit card magnifier has the best bang for the buck!
Why a Credit Card Magnifier?
Unless someone loses their purse, wallet, or the magnifier itself, this handy tool will occupy prime "real estate" for years.  Where else can you get someone's attention & exposure to your unique personal brand for fractions of a penny per view?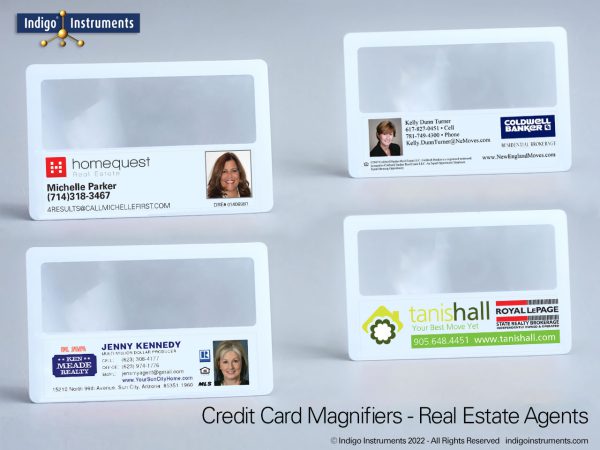 Super Stickers Won't Peel Off
In principle yes you can get them off after application but they use a very aggressive glue that adheres more strongly with time. Of course, if someone really wants to deface the cards, they can but this applies equally to printed materials. Just as wet fingers cause smudging in magazines & newspapers, common liquids such as oils or nail polish remover will do the same to printed magnifiers.
Unequaled Cost Benefit
Our minimum order of 250 stickers & their application when added to the cost of the card magnifiers comes out to $0.90 each, less than even a bad cup of coffee. But, this is the maximum cost & there are many ways to reduce this.
Unlike other print methods, this one comes with a built-in discount  For every additional 250 magnifiers, we can do a different version of your ad. Sign up a colleague & put his/her name, e-mail & telephone number in place of yours at no extra cost. Get 3 colleagues together for 1000 cards for 4 versions & the cost drops to $0.50/card!
Got kids? We have to charge $0.10 for applying each sticker but fast young fingers can affix 200/hour. Split the difference with your son/daughter; you save & they still make $12.50 for 75 minutes of work!