Our customers use entomology (insect) pins in many diverse applications as you can see in the the images below. Mary Claire Becker is an artist who has kindly provided us with a stunning cross section of her work. Flowers are prominent in the murals but if you look closely, you'll see even see a spider (an arachnid not an insect) .  Our longest & thickest insect pin, the #7, figures prominently throughout. All descriptions & biographical material are in Mary Claire's own words.
PROJECT STATEMENTS: ARTWORKS BY MARY CLAIRE BECKER
All Photographs Provided by Mary Claire Becker
The Gardener and The Gardened, 5' x 8', Laser-cut paper, woodcut, silkscreen. 2017.
This piece depicts the fascination with beauty and the desire to control and tame it as two sides of the same coin. The key image (black linework) was designed as a woodcut and color was added using silkscreen. The individual pieces were laser-cut to create separate objects and affixed to the wall with entomology pins. This allows for the illusion of depth and also references natural history specimen displays.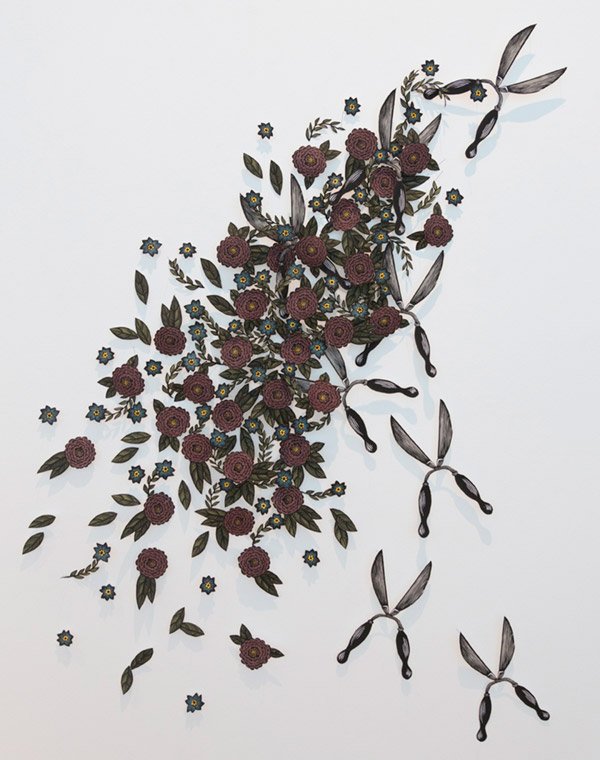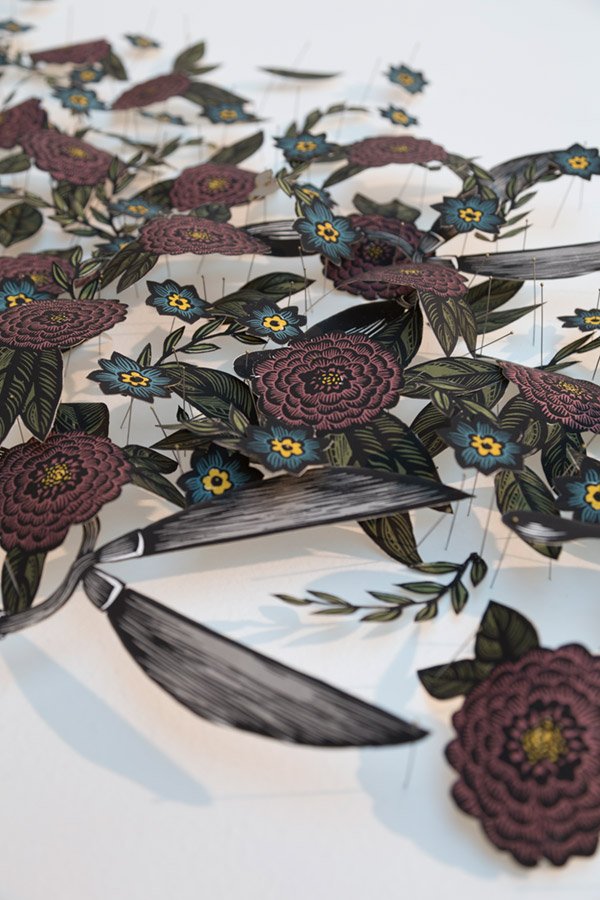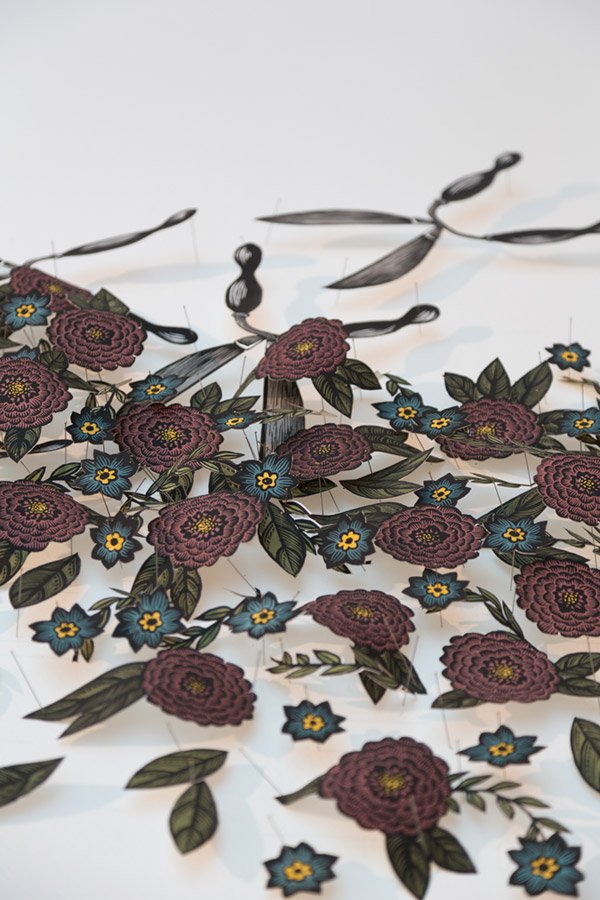 Garland, Plotter-cut lithograph and silkscreen prints, slip-cast porcelain. 6'x12' installation, 2018.
This piece references the kitschiness of human-made fake nature: silk flower garlands sold at craft stores for special events and porcelain animal figurines commonly arranged on mantlepieces or windowsills as interior décor.  The figurines in Garland are created from plaster molds used in industrial slip-casting. The flowers were printed in sheets and cut out using a laser cutter or plotter cutter.
The neon glow is created by printing flats of silkscreen ink on the backs of the paper, and the color reflects off of the wall to create the illusion of light. Prints are affixed with entomology pins, which allow for the illusion of depth and also references natural history specimen displays, another instance of controlled and meticulously organized nature. The ceramic figurines sit atop foam shelves adorned with pinned prints. Kitsch manifestations of Nature such as this do not attempt to add new layers of meaning to our experience of reality; they are unselfconscious echoes of pre-existing tropes. I choose kitsch as my subject because it is not my intention to author new metaphors regarding the natural world, only to expose and process what is already embedded in American culture.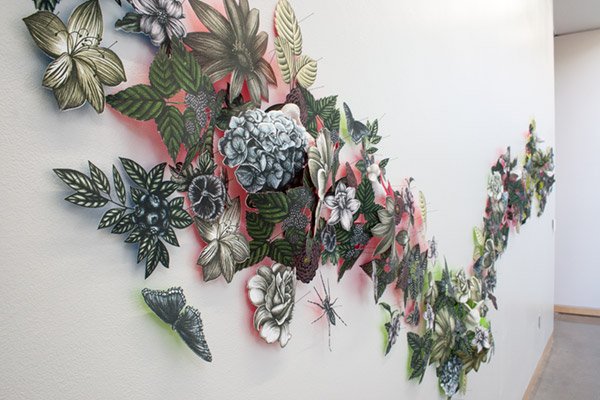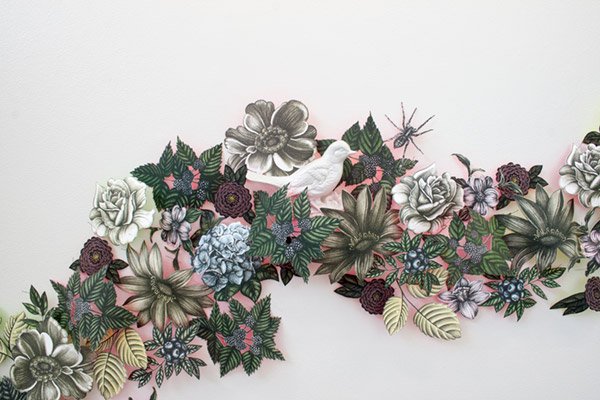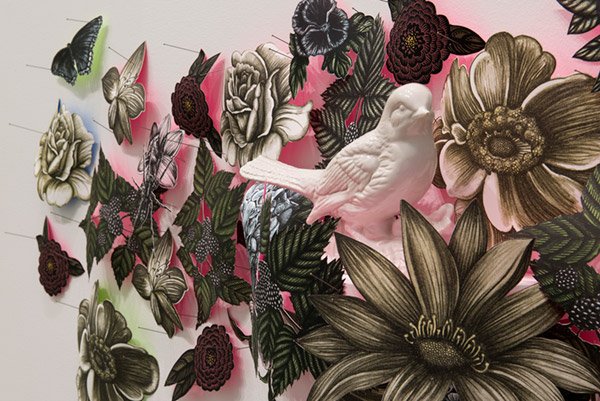 Parlour Bramble (Pigeon Year), letterpress-printed reduction linocut with hand-cut elements, 12' x 30' installation, 2018.
This sculptural installation is conceptually inspired by the tragic story of the North American Passenger Pigeon and aesthetically influenced by the wallpaper designs of William Morris. The resulting artwork is an interior decor that explodes messily off the wall and into real space, blurring the boundary between tame and wild and between image and object. Pattern via tiled imagery made it possible to create a print large enough to blanket a vast expanse of space.
Prints were pasted across the gallery wall, then selectively hand-cut into viney brambles and layered dimensionally to mimic a tangled thicket of plant life. The edges of the piece were feathered to aid the transition from white gallery wall to bramble. This transition gives the impression of a simulation peeled up around the edges; or perhaps that the gallery was the simulation and a rift opened up to expose the bramble.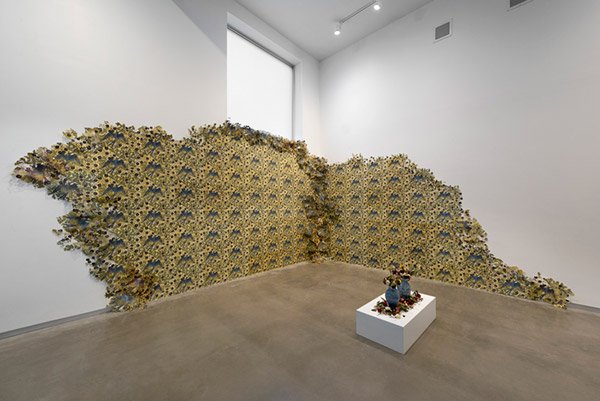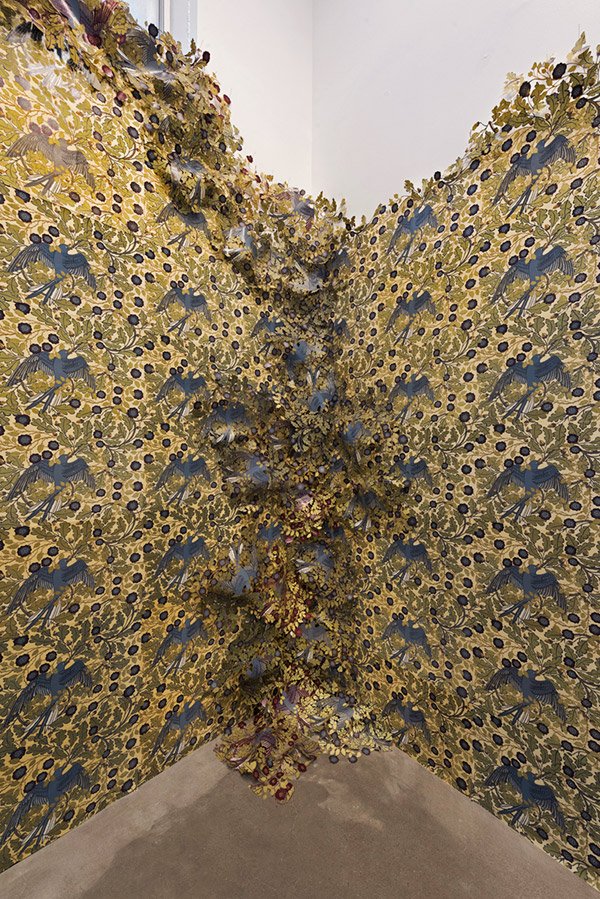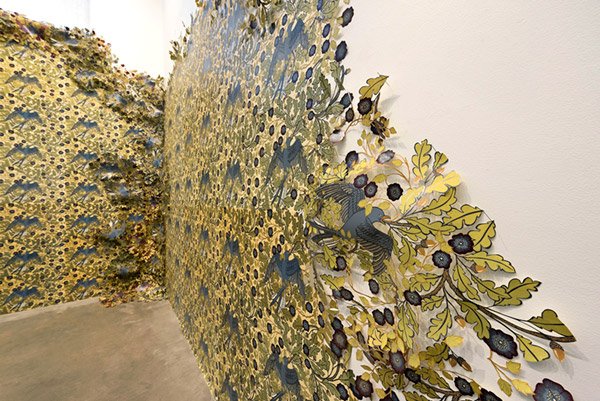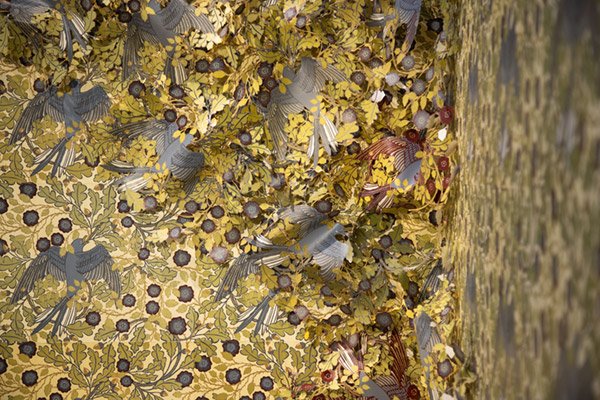 Tulipmania, Laser-cut silkscreen prints, 6' x 15' installation, 2020.
Tulipmania references 17th  century Dutch Golden Age still-life paintings of floral bouquets, primarily those featuring Semper Augustus tulips. This artwork recontextualizes art-historical depictions of the natural world and questions definitions of "natural" vs "artificial".
Semper Augustus tulips were the most coveted flowers of the Dutch Tulip Mania financial bubble. They were highly valued because of their variegated stripes, yet the stripes were in fact a side effect of a type of mosaic virus that also weakened the bulb and hindered the plant's propagation, rendering them a poor investment.
In this piece, I began with photographs of Golden Age still life paintings and digitally augmented them, breaking down the image in an echo of the mosaic virus' degradation of its host. The images were then silkscreen printed and arranged on the wall in a tangled bramble using entomology pins.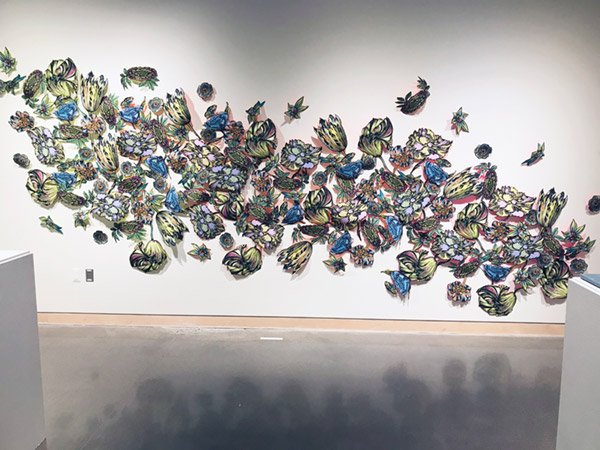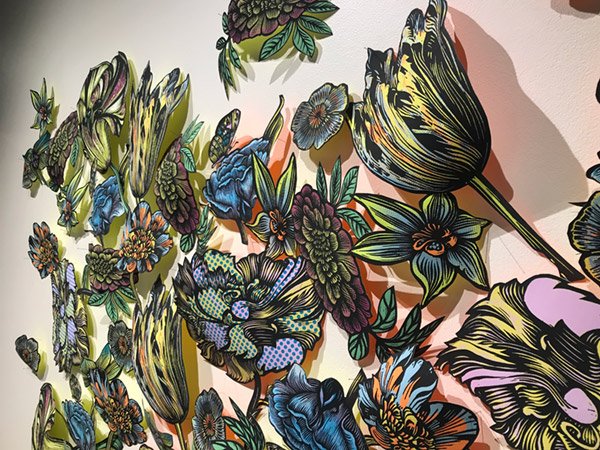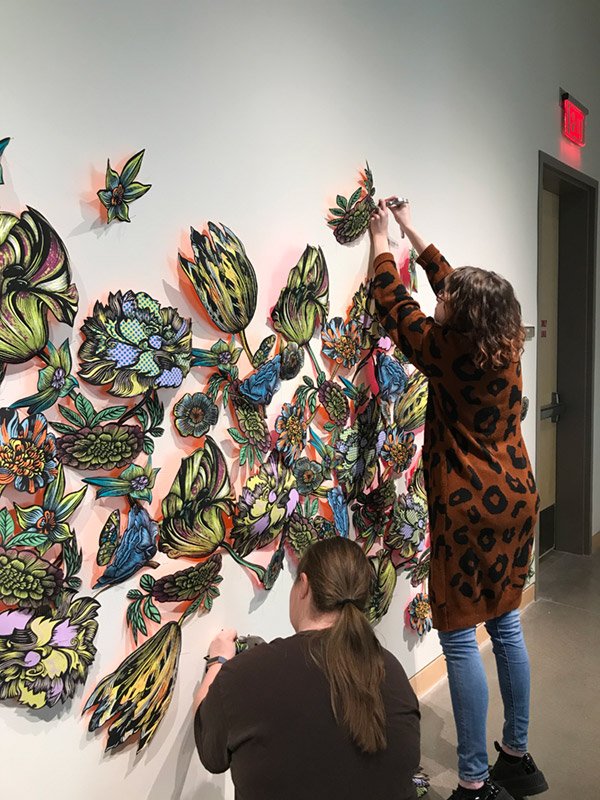 About Mary Claire Becker
Mary Claire Becker is a printmaker whose work rearranges and re-contextualizes human-made depictions of Nature. She grew up in Raleigh, NC and currently lives in Stillwater, OK, where she works as Assistant Professor of 2D Studio Art and 2D Foundations Coordinator at Oklahoma State University. She holds an MA and MFA from the University of Iowa, a Certificate of Book Arts from the UI Center for the Book, and a BFA from the University of North Carolina at Asheville.
Mary Claire was the 2019 Stephen L. Barstow Artist-in-Residence at Central Michigan University. She has also attended residencies at Iowa Lakeside Laboratory, Jentel Arts, and Kimmel Harding Nelson Center and served as a studio assistant at Penland School of Crafts. She has shown nationally at many galleries including Visions West Contemporary in Livingston, MT, Blue Spiral 1 in Asheville, NC, Manifest Gallery in Cinncinnati, OH, and the Center for Book Arts in New York City.

Other Entomology Pin Blogs